Personal Website of Roland Rhoades
Genealogist, Historian, and Time Traveler
Gorham Maine - seeker@maine.rr.com
Back to Genealogy Index Page
Back to BOUDWAY webpage
IN MEMORIAM
A Tribute Page to NANA
Here preparing to party, and serving cake and ice cream at her 95th Birthday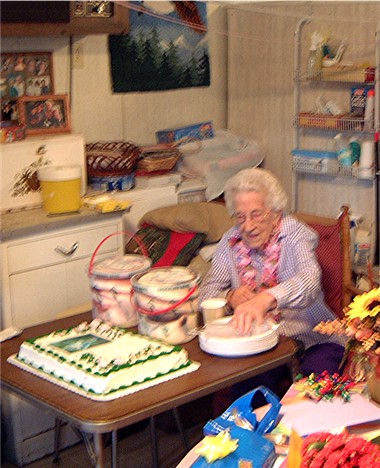 MARION FRANCES (BOUDWAY) RHOADES
September 27, 1911 - January 9, 2008
Born September 27, 1911 in Farmingdale, Maine to Frank Edward Boudway from Orono, and Agnes Elizabeth Peterson from Marstrand, Sweden, she was predeceased by her older sister Dorothy Rankin of West Gardiner, and her younger brother Edward Boudway of San Diego, California, and her husband Roland on November 23, 1997. She is survived by sons Roland Rhoades (and Muriel) of Lakeland FL, Jack Rhoades (and Janet) of Oakland ME, and daughter Lynda Bailey of Farmingdale, 8 grandchildren, Roland Rhoades IV, Steven Rhoades, Nancy Labrecque, Bonnie Winner, Deborah Gower, James Buotte, Frank Bailey, and Marcella Bailey, as well as 10 great grandchildren and 13 great-great grandchildren.
Marion lost her mother when she was only 14 years old and raised her 7-year-old brother and was a second mother to his friends. Marion married Roland Edison Rhoades on December 14, 1929. She had 2 boys, Roland and Jack within 2 years and became a second mother to their friends. In October of 1944 she gave birth to a daughter (Lynda) and once more was a second mother to this child's friends. Lynda says Marion made growing up a fun experience for all the generations of children in her life. She would set up chairs in the middle of the floor and drape blankets over them to make tents. For picnics she would pack a lunch and take the kids down by the brook and go exploring the area. She loved fishing and organized many fishing trips during the day. Marion was sure that she would die young like her mother did, so her Rolie told her, I bet you $20 you WILL live past 37, and she took the bet. When she turned 38, he made her pay him the $20! I suppose another 60 years was worth $20.
Nana also loved playing cards and we played Canasta and other games for many summers. She was certainly my second mother also. I spent most of my summers with Nana and my grandfather. I learned to swim at their camp. I learned to tie my shoes by promising my parents "let me stay one more week and I'll learn to tie my shoes". Nana says I had learned by the time they got to the end of the street. Nana also got me hooked on coin collecting when I spent the summer after third grade "helping" her in her corner neighborhood store that had lots of penny candy, sodas and snacks for daily coffee breaks, and lots of different old coins to look at and add to my collection. Marion and Rolie were the ones who had the camp in the boondocks of the Aziscoos Mountains and Lake in northern Maine that still don't have electricity or running water, where I spent countless relaxing and fun summers over 40 years. When I started family tree research, I discovered that many of their friends and neighbors were also relatives. I also spent my first 56 Christmases at Nana's.
In her later years she enjoyed hooking rugs and giving them to family and friends. She lived at 133 Northern Avenue [83 after 911 address changes] in Farmingdale for nearly 70 years where she also had a garden which she weeded and harvested into her 90s. About her activity she'd say, well if I stop, I might not get started again. She always had a positive attitude seeing the bright side of life. In the fall of 2003 she sold her house and moved in with her daughter Lynda Bailey. On September 23, 2006 she was honored at a surprise 95th birthday party. About 100 friends and family and former neighbors from all over the country attended. On October 17, 2006 she suffered a stroke and was hospitalized for 9 days. She came home to her daughter's and had home health care until she was hospitalized on August 21, and then transferred to Augusta Rehab on September 5, 2007.
Nana was also a staunch Democrat, at least since the 1930s, her husband being a member of the Pipefitters Union. I remember one Christmas dinner when her nephew had been invited to dinner and started talking about Republicans and badmouthing President Clinton. She said, "We are Democrats in this house, and I won't tolerate talk like that here". She even wrote Bill Clinton a letter during his "troubles" saying she was sorry the Republicans were messing around mixing his personal life with their political schemes. She received a very nice letter back from him.
Nana was never afraid of dying, ever since she "died" in childbirth in 1931 and saw the bright light and those on the other side. They told her that she had to go back; she was needed by many people on this side. Marion had had a number of experiences with the veil to the other side coming down in her final year, and she talked with those who went before her, and finally made the trip herself at 1:30 am on Wednesday January 9, 2008 in Augusta Maine. When I visited her a few days before, her only concern was, oh don't kiss me you might catch my cold (I did anyway).
The funeral was January 12 in Gardiner. The gravesite service at Maine Avenue Cemetery in Farmingdale will be in May after the ground thaws. Nana was quite the character. Her Rolie, the love of her life for 70 years, had also passed away during the winter, and we were worried how she would handle re-opening the wound months later. When Lynda took her back into the funeral home, her words to the funeral director were, "well, I guess we're ready to plant Rolie".
THE STORY OF SAINTE MARION
Sainte Marion went to the Light in 1931 from complications of childbirth at the age of 19. The angels welcomed her, but also told her they had a mission for her. She was still needed on earth. There were four boys who needed her guiding love to help them grow into fine upstanding young men. Marion looked around and said "OK, but I will never be afraid of coming back here; it is so beautiful". The angels said "you haven't seen anything yet; this is just the entranceway". And Marion returned to us.
The four boys who needed her loving guiding hand were her baby brother, since their mother had already passed to the other side, and her two baby sons, and her husband, who still had some growing up to do himself. And she was also needed to take care of her father for another 37 years. Marion did a terrific job. Marion and her husband were together for 70 years. Quite a few years later, the angels also gave her a daughter Lynda to care for her, when she would be the one needing to be cared for.
Sainte Marion did a wonderful job spreading love with every connection she made, making everyone feel loved so that they could also spread love. She had many neighborhood children calling her their second mom or grandma. She has also been a liberal mediating rational force between any potential family conflicts. Her impact has been felt by the hundreds of people who she touched personally and the thousands of people that those people touched, across the generations and centuries.
God Bless Sainte Marion.

1/24/08 update